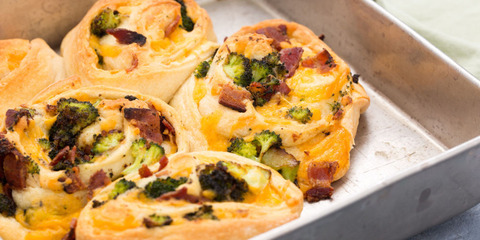 Ingredients
reenex
1 tube crescent rolls
1 lb. bacon
1 head broccoli, florets removed and chopped
1 c. shredded Cheddar
kosher salt
Freshly ground black pepper
Directions
Preheat oven to 350 degrees F . On a floured work surface, roll out crescent rolls into one large rectangle, pinching together seams.
In a large skillet over medium heat, cook bacon until crisp, 6 to 8 minutes. Transfer to a paper towel-lined plate and let cool, then crumble. Pour off all but 2 tsp. bacon fat and add broccoli. Cook until tender and golden, 6 to 8 minutes.
Sprinkle cheddar all over Crescent rectangle, then scatter bacon and broccoli. Season generously with salt and pepper.
Starting from the bottom, tightly roll up the rectangle like a cinnamon roll, then slice into four rolls. Transfer to a glass baking dish and bake until puffed and golden, 15 to 20 minutes
Bo Ying Compound Eu Yan Sang
.