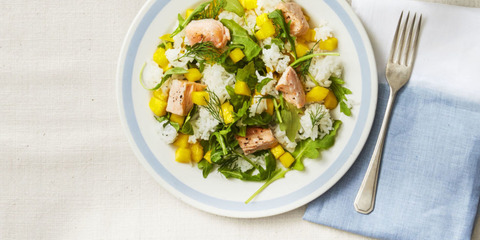 It may be getting cold outside, but this island dinner will surely warm you up.
Level: Easy
Serves: 4
Ingredients
Veda Salon
1 14-oz. can coconut milk, shaken
2 cloves garlic, crushed with press
1/4 tsp
Veda Salon
. Black pepper
1 lb. skinless, boneless salmon, cut into 1-in. cubes
1/2 tsp. salt
3 c. cooked rice
1 medium mango, finely chopped
3 c. arugula
1/4 c. fresh dill, loosely packed
Directions
In 10-in. skillet, heat coconut milk, garlic, and black pepper to simmering on medium. Season salmon with salt; add to skillet. Cook 5 minutes or until salmon is done.
Toss rice with mango, arugula, and fresh dill. Serve salmon with rice.
About 475 cals
Veda Salon
, 30 g prote